Petra Gerschner (germany)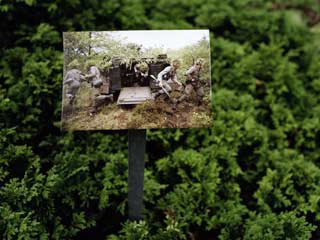 On the Stubbornness of Fights
Petra Gerschner
Germany
Music: jacques et les fatalistes, 2009
Le déserteur (Boris Vian, 1954)
4:36 min
2009

text as pdf

"War is the motor for institutions and order and in its smallest wheelwork even peace creates war. In other words: You have to read peace out of war. War is nothing but the code for peace." (Michel Foucault; Society must be defended).

Starting from the presence of military operations in everyday life, "On the Stubbornness of Fights" shows actions of individual and collective resistance. Images of artistic and political interventions in public space are linked with sequences of organized actions of individual and collective manifestations against war, torture and capitalist globalization.

War is no social destiny but the result of political action. To be at war has to be legitimated and socially accepted. In the song "Le deserteur" by Boris Vian, the protagonist denies this logic. He personally draws the consequence and neglects the order to succumb to military power relations.

For the video "On the Stubbornness of Fights", the Viennese musicians "jacques et les fatalistes" re-interpreted this song, for which Vian was insulted on stage, boycotted and censored by the French radio. The fear of those in power vis-à-vis the power of the song was obviously so strong at the time when the French colonial army had to withdraw from Indochina in order to bloodily fight against the anti-colonial liberation movement in Algeria.
THE DESERTER
Mr. President
I'm writing you a letter
that perhaps you will read
If you have the time.
I've just received
my call-up papers
to leave for the front
Before Wednesday night.
Mr. President
I do not want to go
I am not on this earth
to kill wretched people.
It's not to make you mad
I must tell you
my decision is made
I am going to desert.
Since I was born
I have seen my father die
I have seen my brothers leave
and my children cry.
My mother has suffered so,
that she is in her grave
and she laughs at the bombs
and she laughs at the worms.
When I was a prisoner
they stole my wife
they stole my soul
and all my dear past.
Early tomorrow morning
I will shut my door
on these dead years
I will take to the road.
I will beg my way along
on the roads of France
from Brittany to Provence
and I will cry out to the people:
Refuse to obey
refuse to do it
don't go to war
refuse to go.
If blood must be given
go give your own
you are a good apostle
Mr. President.
If you go after me
warn your police
that I'll be unarmed
and that they can shoot.
Boris Vian 1954
Le deserteur
Monsieur le Président
Je vous fais une lettre
Que vous lirez peut-être
Si vous avez le temps
Je viens de recevoir
Mes papiers militaires
Pour partir à la guerre
Avant mercredi soir
Monsieur le Président
Je ne veux pas la faire
Je ne suis pas sur terre
Pour tuer des pauvres gens
C'est pas pour vous fâcher
Il faut que je vous dise
Ma décision est prise
Je m'en vais déserter
Depuis que je suis né
J'ai vu mourir mon père
J'ai vu partir mes frères
Et pleurer mes enfants
Ma mère a tant souffert
Elle est dedans sa tombe
Et se moque des bombes
Et se moque des vers
Quand j'étais prisonnier
On m'a volé ma femme
On m'a volé mon âme
Et tout mon cher passé
Demain de bon matin
Je fermerai ma porte
Au nez des années mortes
J'irai sur les chemins
Je mendierai ma vie
Sur les routes de France
De Bretagne en Provence
Et je dirai aux gens:
Refusez d'obéir
Refusez de la faire
N'allez pas à la guerre
Refusez de partir
S'il faut donner son sang
Allez donner le vôtre
Vous êtes bon apôtre
Monsieur le Président
Si vous me poursuivez
Prévenez vos gendarmes
Que je n'aurai pas d'armes
Et qu'ils pourront tirer
Boris Vian 1954
Petra Gerschner is an artist and curator, who did her diploma of fine arts from the Akademie der Bildenden Künste Munich in 1999.

Her work includes billboard-projects and interventions in public space, photo and video installations and she participated in exhibitions like Biennale Cuvée, Linz 09 (Austria) / Taipei08 Biennial, Taipei Museum of Fine Arts (Taiwan) / Land of Human Rights, <rotor> association for contemporary art, Graz (Austria), 2008 / 25PEACES Europart, Vienna, 2006 / Double Check, Camera Austria, Graz; show & hide, Feld für Kunst, triennial of photography, Hamburg (Germany), 2005 / IV. Biennale de Cétinié, Cetinje (Montenegro), 2002 / International Festival of Photography, Toronto (Canada) 2001 / intentional entrances, Gallery Art Resources Transfer, New York (USA), 1999 / Der zweite Blick, Haus der Kunst, Munich (Germany), 1995.
She has been involved in curatorial projects in Munich, Berlin, Vienna, Calcutta, New York and Washington.
Media images and advertisements occupy and privatize public space. They act as everyday backdrop and space for projection, producing desire and anxiety. Petra Gerschners works what does memory mean to you? XII and problem or solution (2005 - 2009) explore the medialisation of politics and the ubiquitous presence of advertising, which shape our perspective on reality.

Working with photography, video and installation, Gerschner analyses gender relations, cultural and racist stereotyping; the relations of power that produce social inclusion and exclusion. Through her own re-reading, she questions existing images, highlights common methods and strategies on which these are based, and creates new perceptive possibilities. Gerschner aims at developing fresh perspectives on subversive and collective action, and explores the potential of artistic strategies for intervention.
jacques et les fatalistes
stefan geissler - harmonicas, kazoo, devices, vocals
jakob ortis - guitar, kazoo, vocals
it´s hard to say whether "jacques et les fatalistes" is a side-, proto-, post- or whatever project of something, which started in 2004. some say, "ils jouent la chanson brute", but actually they play and sing in french, english, yiddish, german. and in any case "jacques et les fatalistes" is / are jakob ortis and stefan geissler. and what´s also important to say is that jakob is not jacques et diderot not their maître, but everything happens with these guys musically without anyone else´s participation is nowadays summerized as such.
concerts so far :
09.12.2008 - open space - opening of the show: "structures of radicality"
20.11.2008 - sala loca - hacienda ephemer
10.11.2008 - nachpoltern - fluc
26.09.2008 - kolar psy
16.08.2008 - euroranch - grillage / rhiz
15.06.2008 - central garden
18.08.2007 - standesamt frohnleiten
17.03.2007 - HOUSE(REBUILD.)PARTY - rhiz
06.07.2005 - la petite mort - slavonice/cz (avec marlies schlaeger)
30.12.2004 - fluc - "familienfeier"
21.12.2004 - la suite d´une nuit sensuelle et sans suite ... (fluc)
06.11.2004 - beatzentrale (as "popbiscuit")
05.08.2004 - fluc (container)
28.07.2004 - kein geld
video :
"HI-RES", video by marina gržini? / aina šmid, ljubljana 2006
contact: stefan.geissler@klingt.org / ortis@gmx.at